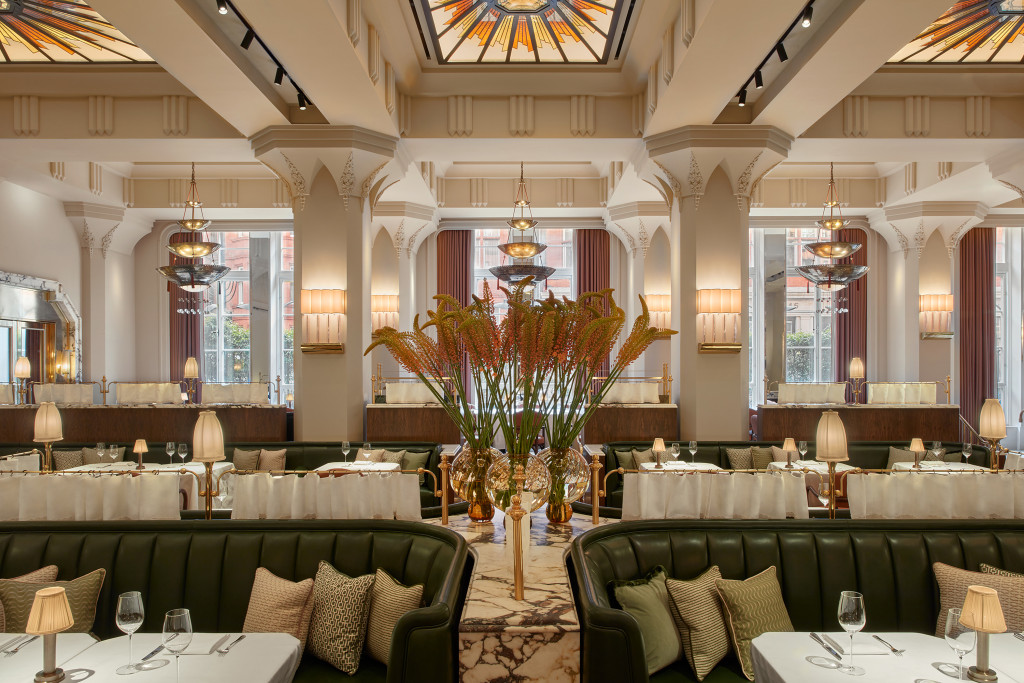 Claridges Restaurant, London
Claridge's Restaurant, a brasserie style restaurant that references the historical art deco features of the hotel while being a contemporary dining destination.
Bryan O'Sullivan Studio's contemporary takes on art deco elements appear in the bespoke carpet design and mosaic tile floor. The carpet design draws inspiration from the art deco era, incorporating geometric shapes and bold colours, while the timber flooring gives a nod to the chequered flooring that is synonymous with the hotel.
All of the bespoke furniture subtly references art deco elements. The fabrics chosen for each piece of furniture also reference the art deco era, with the chosen colours and patterns.
Doors to the kitchen play an important role as a focal point within the space with the elaborate architrave surround incorporating the antique brass, coloured back lit glass and the Calacata Viola marble architrave.
Central banquette seating offers a more intimate and private dining space while the perimeter banquettes offer nice viewing points to take in the design elements of the restaurant. A Private Dining Room offers a space for a more exclusive dining experience while retaining the design qualities and brasserie feel of the main restaurant.
3 Large bespoke mirrors opposite the windows help reflect the natural light during the day service while during the night, will help enhance the atmosphere by reflecting the warm glow from the lamps.
The main room pendants are inspired by Joseph Hoffman but we wanted to add a touch of Claridges to these to make them more  at home in the hotel. The addition of the tassels references the tassels found throughout the hotel both in metal work and plaster mouldings. They also reference 30's -40's Austrian brasserie design. The tassels are repeated in other bespoke elements to further enhance this. 
The art deco inspired skylights were uncovered from a previous iteration of the restaurant and helped influence elements of our design, from the shape of the elaborate architrave around the kitchen door to the bar front panels. The bar itself retained its historical shape and historical elements,such as the ceiling mouldings and pencil lights that wrap around at high level. 
The bar itself is framed with calacatta viola marble with a more traditional bar front encompassing the verde marinace marble panels with brass trim detailing. The back bar shelving is made with brass elements and hand cast glass shelves that are clevely lit from behind to allow the bottles to glow and further enhance the sparkle of the bar.